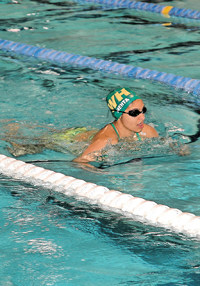 By Katherine Massopust —
PERTH AMBOY — PAHS Swim Team Coach Kristen DeTomoso who also teaches physical education at the Wilenz School is proud of the High School Swim Team. "The team has four wins this year."
It is the fourth year the team is in existence. "Our season starts in November. It's tough but we work hard."
The Swim Team consists of twelve Seniors this year. Coach DeTomoso states that her top swimmers are: Elliot Pratts who specializes in Butterfly and Breaststroke; Ramon Diaz and Kelby Payano who both swim every stroke. She also states that Junior Luis Alicea holds four PAHS school records: one for backstroke, the 200 Freestyle, 500 Freestlye and a Relay Record.
Her top female swimmer is Desiree Adorno who specializes in Backstroke.
"The team works hard at both the Conference and Regular meets. They feel more competitive now. They like to win. They've got the will to do well."
"The YMCA is supporting us to get swimmers prepared for the High School Team. The Elementary Swim League is doing a lot."
The team was excited to compete in the GMC Championship Meet held Thursday, January 31st (Boys) and Friday, February 1st (Girls).