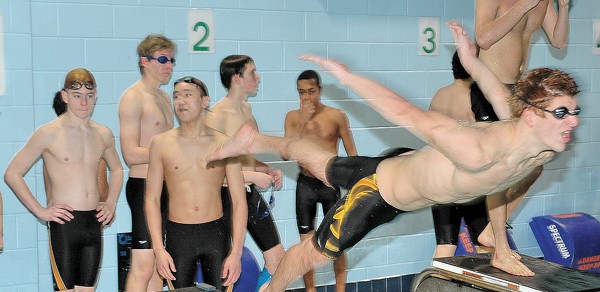 Over 500 Swimmers Compete—
18 Teams Each in Boy's & Girl's Divisions
By Katherine Massopust
PERTH AMBOY – Perth Amboy YMCA CEO and President Steve Jobin is proud that the Perth Amboy YMCA hosted the Greater Middlesex Conference Swim Meet. When asked how the Perth Amboy Y was chosen for this special event Jobin replies, "It was a combination of conversations for the last two years."
John Cathcart, Chairperson for Middlesex County Swim Meets stated they made the decision in late November/early December 2012 that Perth Amboy would host the meet. "In the past we held it outside of Middlesex County at Rutgers or Princeton. To them it was about the money. We determined that Perth Amboy has the best facility for the meet and it's in Middlesex County. It's a great venue to send the kids to and its close to a lot of the schools," Cathcart states.
"Perth Amboy has great pride and we'll be happy to do this in the future. They have been great. Any questions we had were answered. You can't ask for a better place," Cathcart states.
The Competition is High School level. The Greater Middlesex Conference Championship Meet consists of public and private high schools located in greater Middlesex County. Eighteen teams compete although some are sending only their best swimmers. Over 240 athletes will swim each night. (The Boys Championship was Thursday, January 31st, and the Girls Championship was Friday, February 1st. The meet is scored to sixteen places and the top six individuals receive medals. The top team wins the championship. All the athletes are from Middlesex County. In the previous year, St. Joes won in the Boys Division and Bishop Ahr won in the Girls Division.
On New Brunswick Avenue there is a sign reading, "Welcome Swimmers." Jobin states of the meet, "It's good for the City, good for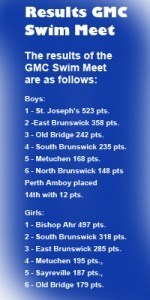 local businesses and good for our kids and I'm proud that our City is a part of it. The amount of employment this creates is great. The UEZ/BID is letting local businesses know about the meet. We have local High School and College kids employed here. The money goes back into the economy of the City. Even if it's a lifeguard getting an extra ten hours, it's good."
The JROTC presented the colors and two students from the Performing Arts Department of PAHS sang the national anthem. "We are making it personal to our town to highlight the kids," Jobin states.
Also included in the opening ceremony is Freeholder Director Christopher Rafano, Craig Beardsley (a member of the 1980 Olympic Team and world record holder) and the Jersey Waves Special Olympics Athletes.
"We want to make every effort that this event is special for these kids. That's what we have to focus on," Jobin states.