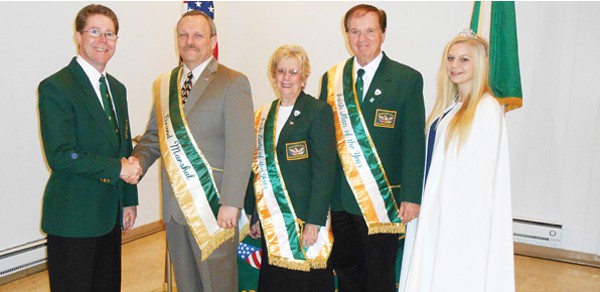 Honors Emergency Service Workers—
Goes GREEN with Business Partnership
(Photo above) Ken Gardner, Chairman of the Woodbridge American Irish Association's 40th Annual Parade congratulates this year's honorees. Ken (left) congratulates Grand Marshal Ed Mullen. Next to Ed is Claire Miloscia, Irish Lady of the year. Followed by Frank Darcy, Irishman of the Year. Next is the Lady-in-Waiting, Jessica Jacko.   *Photos Submitted
WOODBRIDGE — This year's Parade is dedicated to Emergency Services Workers. The Grand Marshal is Ed Mullen. Ed is an Ex-Fire Chief, former President, former Commissioner & former Mutual Aid Coordinator of the Iselin Volunteer Fire Company. He is still an active firefighter.
Our other honorees are Claire Miloscia, Irish Lady of the year; Frank Darcy, Irishman of the Year; Kayla Meehan, Miss American Irish; & Jessica Jacko, Lady-in-Waiting, Our honorees have done a great job representing the Irish in our community. They are involved in numerous other volunteer activities.
"As a volunteer firefighter for forty years, I am truly honored to represent every police officer, firefighter, EMT, CERT volunteer, and the Office of Emergency Management as this year's Grand Marshal" said Ed Mullen. "I am as proud of my Irish heritage as I am of my many friends in the emergency services. This is an honor to be shared by all of us; I'm only the lucky one who gets to wear the sash in the parade" Mullen continued.
Parade Chair Ken Gardner said "we have formed a partnership with our downtown merchants to thank them for supporting the parade & to help their businesses". They are "Going Green" for the economy & environment in March. Our parade brings out thousands of people to our neighborhood & downtown shopping district. We want them to come back (& shop of course). The parade helps build a great sense of community & camaraderie across all ethnic groups as we make everyone Irish for the day. The parade is funded by donations from local businesses.
"Go Green" focuses on shopping locally. It helps the environment, nurtures our community, creates local jobs, improves your health (by walking to the store) & supports the economy.
This 40th annual parade was started to celebrate St. Patrick & the Irish. However, it has developed into so much more in our community. We want to add to its success.
For more info or if you would like to participate in the parade call Ken at 732-742-0909 or go to www.AmerIrish.com
Press Release