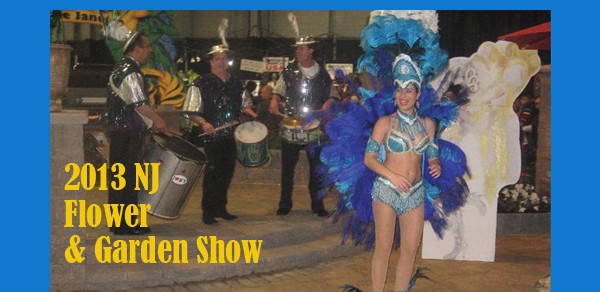 There's Something for Everyone
By Katherine Massopust & Carolyn Maxwell
EDISON — Since coming to Raritan Center eleven years ago the New Jersey Flower & Garden Show is becoming more and more popular. Filled with vendors and displays this show has something for everyone. This year's theme: Mardi Gras Around the World. Colorful floral inspired costumed dancers entertained to drummers as people from all over enjoyed the variety of vendors at the show.
There were over two hundred vendors at the Garden Show, each featuring something a little different. Some are businesses with reps selling products, while others are entrepreneurs selling their crafts and ideas. Some are selling gardening tools, supplies, seeds – anything to enhance your landscape or small garden. Others sell food and drink such as honey, wine, spices, candy and dips. Yet others offer health products such as soap and skin care.
Sponsors for the show included Subaru, PSE&G, Renewal by Anderson, Clayton, WOR NewsTalk Radio 710 AM, NJNLA, Rutgers, Gardener News, Dearborn and Plant Something.
WOR Radio personality Mark Simone was available on Saturday for signing autographs and taking pictures.
Jay Eriv, owner of Grounds Keeper, Inc., who have been in business for forty years was proud that Grounds Keeper, Inc. won Best in Show for nine years in a row. "It's a culmination of rigorous effort and teamwork." He emphasized his team of fifteen individuals which includes full and part time employees who made all of this possible.
"I began by cutting lawns when I was twelve years old and never stopped. I'm forever playing with plants on so many levels. My vocation is my avocation."
One of the sponsors of the event is Subaru. Reps Lisa Jackson and Anthonia Kitchen are proud to showcase popular models such as the Subaru Outback, a popular choice for many.
One of many speakers, Lesley Parness, Superintendent of Horticultural Education, the Frelinghuysen Arboretum gave a lecture, "Lettuce Begin" about how to keep vegetables fresh which ones can be grown in an inside container.
One of the vendors who was here for the first time was Chef Tim Jutzi of Chef Tim Foods. He was selling his blends of spices and all natural balsamic vinaigrette dressing. On the bottles of the vinaigrette it states, "Shake, Shake, Shake – Don't Refrigerate!"
"I love New Jersey. I have a lot of New Jersey customers." Tim Jutzi states. Jutzi has been in businesses for over four-in-half years. "I started on my dining room table. The recipes were made seventeen years ago as the Executive Chef at the Pentagon in Arlington, Virginia. Later on I started my own business."
Another vendor, soap maker and herbalist Carol Gingrich of Carol Scents 'N Soaps which has been in business for fifteen years. She has come to the NJ Flower & Garden Show for five years in a row. Her products feature a large variety of soaps, and different types of bath salts and bubble baths for your body and soul. "We make every product ourselves that we sell."
"I was a ceramics artist for twenty years and developed an allergic reaction to mold and clay. I developed walking pneumonia. I learned about herbs. I'm completely self taught. I've developed products that controls eczema symptoms and reduces the symptoms of allergies."
When asked what she recommended for skin Gingrich replied, "It depends on your skin type and what your needs are. Lavender is unbelievable for skin."
Another vendor, Christine Mallouk of Christina's World is at the Garden Show for the first time. Her booth features ornaments (not just for Christmas) of pastel colors and shapes of animals such as frogs and dinosaurs. "I worked for my father's business until he passed away. The designs I had were too expensive for his factory to produce. My first line was Mardi Gras masks. Now, I work with six different factories and bring design ideas to them. Some, they design but the majority of them are my design. It's 80% business and 20% design. I go to Europe (Poland and the Czech Republic) once a year. I go to fifty shows a year including eight wholesale shows."
Scott Ritchie and Jack Strobil of Stone Center in Bridgewater, NJ specialize in natural stone, landscaping and masonry materials. Natural stones are durable and weather naturally. They are the largest seller of naturals stones on the east coast.
The NJ Garden show is an annual event. This year it took place Thursday, February 14 to Sunday, February 17. This is just one of many shows throughout the year at the NJ Expo Center, Raritan Center, Edison.
*Photos by Katherine Massopust and Paul W. Wang. More photos pages 5 & 9.