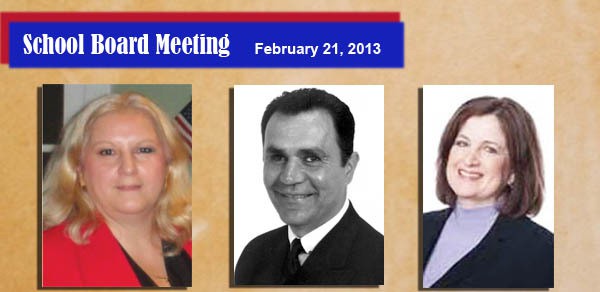 Controversy Comes with Adoption of New School Calendar
PERTH AMBOY — There were several twists and turns during the February 21, 2013 Board of Education Meeting. There were two closed sessions. One session was preceded with the Board Attorney reading of the Doctrine of Necessity to discuss pending litigation. The Board Attorney read a list of Board Members who were in conflict because of relatives working in the school system and/or ethics charges brought against them by the Superintendent and those who were not. Those in conflict were as follows: Israel Varela (relative employed by school system and ethics complaint by Superintendent Caffrey), Ken Puccio (ethics complaint by Caffrey), Anton Massopust (relative employed by school system), Obi Gonzalez (ethics complaint by Caffrey) Milady Tejeda (relative employed by school system and ethics complaint by Caffrey), and Dianne Roman (relative employed by school system). Only three Board Members were listed as having no conflict: Board President Mark Carvajal, Maria Garcia and William Ortiz.
Board Member William Ortiz made a motion that he wanted to end the litigation against Superintendent Caffrey.
Before they went into closed session, the Board Attorney asked Dr. Caffrey if Caffrey wanted to waive her right to a Rice Notice. (A Rice Notice is a notification given to employees to discuss their job performance which is being evaluated. There is a 48 hours prior notice.) Caffrey waived her rights to the Rice Notice and wanted the Board to vote in public. The Board Attorney said that, "Pending litigation cannot be discussed in public."
Board Vice President Ken Puccio made a motion to go into executive closed session. The motion made by Ortiz was rescinded by himself to end the litigation against the Superintendent.
When they came back from closed session, the following Board Members voted, "No," to rescind the Superintendent's suspension: Israel Varela, Milady Tejeda, Anton Massopust, Obi Gonzalez. The motion passed. The Superintendant kept her position.
Board Member Israel Varela made a statement that he is very tired of the complaint that Dr. Caffrey filed against him which has not been resolved. He wanted this discussed in closed session and he was hoping for a resolution tonight.
Varela, in an interview with the Amboy Guardian over a year ago asked for the resignation of Superintendent Caffrey. She indicated that Varela asked her to place his friends in positions of employment in the school system. Varela also said that he would resign immediately if she had information to back up her allegations. To this date Dr. Caffrey has not presented any information to back up the allegations towards Varela.
Varela also said that he was, "Sick and tired of the situation being handled by outsiders. I was hoping that these charges against me would be discussed in public in Perth Amboy – not by the State. People are believing a lie. I believe the State is doing nothing. It needs to be taken care of tonight instead of being kicked down the road."
Another controversy that came up was the new calendar. During the public portion several teachers came up and were visibly upset. One burst into tears and the others spoke with their voices crackling.
This had to do with a memo put out by Dr. Caffrey basing the calendar on how many people would be affected by days off. In the letter it made reference to the High Holy Days and there would be only a small group of staff members who would be affected.
Those teachers who spoke were of the Jewish faith and they felt that they were being singled out. One of the teachers made reference to a poem. "Then They Came For Me." She recalled losing her relatives in the Holocaust and thought the days being singled out as Jewish were long gone.
Some of the comments made by the teachers were in reference to the professional days on the calender. "One is a High Holy Day. The Superintendent is discriminating. She said that we can do this because it only affects 20 to 40 people. What group are we going to pull next? It's an outrage that we are counting heads."
Another teacher spoke, "I did not expect to get a letter asking how many Jewish teachers there are. The Superintendent said that there are lot of favorable comments about the school calendar, but that is because people were afraid to speak up. I feel strongly that I have been discriminated against."
Another teacher who has been in the school system for 23 years felt that she was being persecuted, "Because I am Jewish." She was upset about the memo. She burst into tears when she said that they (High Holy Days) may be eliminated from the school calendar, "But they are not eliminated from mine."
She apologized for breaking down into tears and at that point Board Member Israel Varela said, "We should be apologizing to you." He stood up and walked out of the auditorium.
The last school personnel who spoke about the situation said, "We are getting off for St. Patrick's Day but we can't celebrate our High Holy Days?"
AFT Board Attorney Brian Adams said that he was glad that these teachers spoke out about the calendar. He also said, "Board Vice-President Ken Puccio signature is on the AFT contract and the Board of Education violated this contract." Ken Puccio was the Chair of the negotiating committee for the Board of Education. The contract is an agreement with the BOE and AFT. The contract is ratified and was signed off by Board Secretary Derek Jess and the Chair Ken Puccio.
New Board Member Anton Massopust had previously attended a School Board Association Training Session. "We were taught at that session that the bargaining unit was there before we were Board Members, while we are Board Members and will be there long after we are gone being Board Members. We were told that the bargaining agent must be involved in all major decisions. I have suggested to Dr. Caffrey that she include the parents and the bargaining agent in this decision. She told me that it would take a very long time to come to get a calendar. Now, one of my hobbies is making soup. One of my best soups is potato leak soup. But it is very labor intensive to make but the results are a very good soup. It requires several ingredients and a lot of time. Dr. Caffrey's calendar has a lot of good points and merit and so does the union calendar. I suggest that Dr. Caffrey be the Iron Chef and meet with the union and create a soup by combining the best of both ingredients and create a good soup for the Parent's Council to taste. Therefore I vote "No," to this Calendar."
Board Member Obi Gonzalez said, "Many parts of the new calendar are good, but I agree with Mr. Massopust. We need to have all stakeholders look at the calendar."
Board Member Israel Varela said that, "Individuals have told me that in the past that people have spoken up at the podium and where are they now? There is a fear factor, especially with staff members. I want to thank you from all the Board Members for speaking out."
New Board Member Maria Garcia said, "Although I am new to the Board, the Union should have their proposals in place, with the teachers when the Superintendent was working on the calendar. The Union protects and represents their rank and file. I am here to protect the students. I see nothing wrong with the calendar. It is good for the students and parents."
Board Member Milady Tejeda brought up an issue that was discussed earlier. The school lost $2 million because of the poor attendance at the High School.
Tejeda wanted to know, "How many years has the old calendar been in affect?"
Board Secretary Derek Jess said, "The State changed the formula for school funding. This is the first time that school attendance was put into the equation."
When it came time to adopt the new calendar the votes went as followed: "Yes," Dianne Roman, William Ortiz, Maria Garcia, Ken Puccio, and Mark Carvajal. "No," Israel Varela, Milady Tejeda, Anton Massopust, Obi Gonzalez. The calendar was adopted.
After the Board Meeting was over Maria Garcia handed the Amboy Guardian an e-mail that she had sent out to different Middlesex Co. School Districts. This had to do with the Interdistrict Public School Choice Program. Some of the schools that she sent out memos to were to Edison, Woodbridge and Metuchen. She wanted to know if those school districts were participating in this program.
Robert Zega Superintendent of Schools of Woodbridge said that "Woodbridge Township does not participate in any Interdistrict Public School Choice Program."