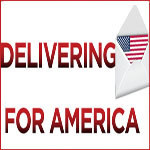 PERTH AMBOY — NALC will hold a day of action on Sunday, March 24, to mobilize public support for Saturday delivery service. The timing will allow us the perfect opportunity to remind our representatives in Washington to maintain the six-day mail delivery language in the continuing budget resolution, expected to be renewed by Congress on March 27.
"We want to make this fight about the cost of losing Saturday mail delivery and how it would affect people in each and every state," NALC President Fredric Rolando said. Letter carriers are encouraged to gather friends, family, co-workers and community coalition partners at specified post offices in major media centers with signage and T-shirts that reflect the feelings of the citizenry, such as "Virginians for Saturday delivery" or "The people of New Jersey want 6-day delivery."
Carriers should not wear their uniforms.
The Perth Amboy Rally will be the only Rally in N.J. As stated in the above announcement this Rally is not about the NALC but how the elimination of Saturday delivery would affect the communities and businesses in the State.
We will have T-shirts at the Rally to hand out as stated in the above announcement. We hope to have public figures, community groups, other Unions and business people from all over the State of N.J. to speak in support of our stance against the elimination of Saturday delivery and join in the Rally.