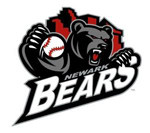 NEWARK — Attention all future stars and veteran baseball players, the Newark Bears will be holding their annual open Spring Tryouts on April 13, 2013, as we prepare for the 2013 championship campaign. Registration starts at 9 a.m. and tryouts may last until 2 p.m. Looking for players who would fill key roles by adding value to the Newark Bears team, on and off the field.
The Spring Tryout pre-registration fee is $50 and is $60 for walk-ups. On April 13th, exclusive call back invitations for the following day, April 14th, will be given to chosen players for a closer look. A nearby hotel will offer a discounted rate for overnight plans, either nightly or multiple nights for those who plan to arrive early and/ or wish to stay overnight.
Details will be provided shortly after registration has been completed.
For more info email info@newarkbears.com or call 973-848-1000.