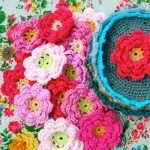 SOUTH AMBOY — The South Amboy YMCA will be hosting a Ladies Night Out on Saturday, May 18 from 7 p.m. to 12 a.m.
Attention crafters: do you like to knit or crochet? Or perhaps scrapbooking or beading is your thing! If so bring your needles or hooks and yard, beads and thread, or photos and scrappy supplies, and join us for an uninterrupted night of crafting. There will be mini demonstrations of all sorts from how to make a simple crocheted flower and felt pin to beading a simple spiral bracelet. There will also be chocolate and an ice cream sundae bar!
Bring a friend, tell your neighbor, and come have a little fun! Everyone is welcome. The event is $30 per person, or $100 for a table of four. To sign up or to learn more about Ladies Night Out, contact the Y's Welcome Desk at 732-553-9622 or visit www.ymcaofmewsa.org.