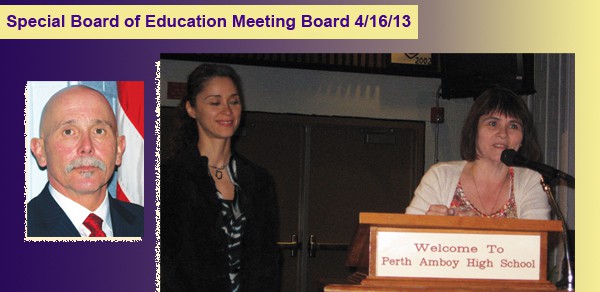 By Katherine Massopust—
PERTH AMBOY — At the 4/16/13 Special Board of Education Meeting Board Member Dianne Roman stated that the Board is very data driven. "We have to put policy aside. We need a game-changer in the district."
Dr. Caffrey gave a small presentation on the Teach To One Program. She stated that this program helps take care of the teachers. The principal of McGinnis School, Dr. Myrna Garcia and Teacher Marie Bermundez spoke at the meeting. The McGinnis School tried a simulation of the program. "The kids love it," Dr. Garcia stated. "The program bridges the gaps in the learning level. Students are broken into small groups and receive individualized learning to their level. There is a lot of technology used. Our kids need something different."
Dr. Caffrey presented a chart showing marked improvement in grades and standardized tests in schools that implemented this program. "I cannot recommend this highly enough," Dr. Caffrey stated.
"Every day we assess the kids. The paraprofessionals do the secretarial work (making Xeroxes, etc.)," Dr. Garcia stated. "It allows teachers to do what we do best."
Dr. Caffrey stated that the program will cost $225,000 start up fee for the first year in grades 5 – 8, which will come from the Focus School Funds which must be spent on school improvement. "We already purchased technology for renovations of space. $250,000 for buildings which will come from our capital funds budget."
Board Member Anton Massopust had two questions: "If we open up all the walls can we put them back up? I like what I saw in the program. The kids have no place to hide. Is it working now?" He turned to Dr. Garcia and Ms. Bermundez and said, "Can you look me in the eye and say this program works?"
Bermundez answered, "It did and the kids were very excited."
Board Member Dianne Roman stated, "This program will parallel students so they will be prepared for assessment. If students don't have computers at home they will have them at school. It's a strong teacher program. Bilingual students will complete specific tools in their language. Once they have self esteem it will help them learn English."
Board Vice-President Ken Puccio remarked, "Supposedly this is the magic bullet. What is going on in our elementary schools that we need this program in the middle school? There is a big gap that there is a problem. what are we doing in K-4 that they fall off the chart in math? There are no guarantees. If they don't buy into it – it can't be sold. Why are we are where we are? This has been going on for years. Why are we in such bad shape?"
With that, resident Nilda Rivera came up to the mic and stated that many parents are not interested in their kids.
During the public portion AFT President Donna Chiera spoke, "The teachers spoke about Teach To One. I can tell when teachers are scripted and when they speak from the heart. I can tell they speak from the heart."
Chiera had two concerns: "First, the bilingual part is a concern for me. Second, we are hiring outside consultants. Will they train our staff? Is this for a one year agreement between our staff and them? It's not a magic bullet. If teachers continue to try it; teachers have a sense of what works."
A high school student, Vanessa spoke, "I am only a sophomore. My mom never comes to the Board Meetings and I get straight A's. I am very motivated. I've had some of the best teachers ever. There are students that do not want to do anything. You can't say it's the teacher's fault or the parent's fault. You have to want to do the work. You have to want to do it yourself. I think it has to start in Elementary School. From Middle School to High School something is lagging. Once we get Middle School nobody cares anymore."
No formal action on has been taken.