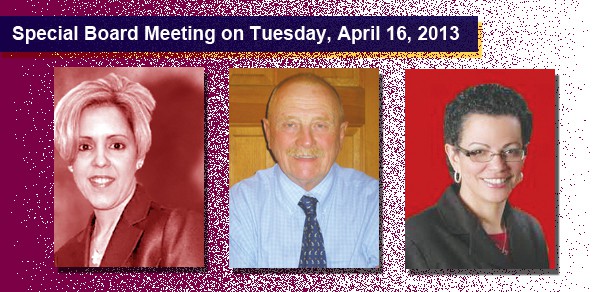 By Katherine Massopust—
PERTH AMBOY — The Special Board Meeting on Tuesday, April 16, 2013 lasted three hours with intense discussion. No formal action was taken. Curriculum Chair Dianne Roman stated that the purpose of the meeting was to get feedback from everyone.
The question came up on whether to have homework (at-home enrichment) or not. "Homework is not used to grade. At one point it did indicate performance. There is a positive relationship with homework; it coincides with performance on standardized tests. We should make sure teachers correct homework and the students have a discussion with the teacher," Dianne Roman stated.
Board Member Anton Massopust stated, "The purpose of homework is to get students to read the book. Give them homework and grade it. It gives the ability to perfect one's knowledge. Students should apply homework to their lifestyle. When teaching metrics I tell my students to measure their rooms. Labs are very important in science."
Board Member Milady Tejada stated, "I grew up doing homework. Teachers have to go over it."
Board Member Dianne Roman stated, "We don't use grading. It's used to practice skills. The more you practice a skill, the more comfortable you feel about it. There is limited time in a classroom. There is not much value placed on homework. There are students that have to repeat their work. Many teachers feel frustrated."
Superintendent Dr. Janine Walker Caffrey stated that a committee of Board Members and teachers should discuss this further. Board Member Anton Massopust commended Dr. Caffrey on her decision.
Board Member Anton Massopust said, "Part of the grade is homework. If you give homework it is applied to the next day's lesson. Homework is a separate grade. Kids that do their homework pass the test. Homework should be a separate part of the grade. It's called a policy. If you give homework you've got to grade it. Some schools don't have a policy."
Board Member Dianne Roman stated, "All teachers have different styles."
Board Member William Ortiz said, "A policy could be said that covers elementary, middle and high school. Before I was a board member both my sons got homework. One more rigorous. My other son did it quickly. Maybe the kids do not have the amount of concentration to build discipline for doing homework. Some get frustrated. It's very challenging. I was reading about the Waldorf School. There's no hardcore homework until the 3rd Grade. There's one answer for every kid."