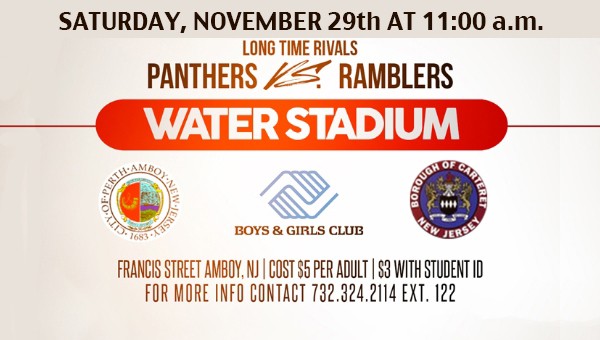 70 former football Perth Amboy Panthers and Carteret Ramblers to participate in football game as Boys & Girls Club fundraiser
News Release 11/12/14
PERTH AMBOY (November 12, 2014) – When Rodger Balton played Tight End and Safety at Perth Amboy from 1985-1987 Carteret was the team's biggest rival. On Wednesday, November 26th, Rodger Balton and about 70 players will have an opportunity to meet up again in their first alumni game between the two football teams. Kickoff for the event will be at Waters Stadium and is set for 6 p.m. Players, who will take the field, graduated from one of the two high schools between 1980 and 2010.
The alumni game has a greater purpose than recreating the rivalry. Players, referees and coordinators will volunteer their efforts to support the Boys & Girls Club of Perth Amboy and Carteret. Funds will benefit numerous BGC programs including Diplomas to Degrees, a college readiness program, which provides a range of services to guide Club members as they work toward high school graduation and prepare for post-secondary education and career success and Project Learn, which reinforces the academic enrichment and school engagement of young people during the time they spend at the Club. Studies show that students do much better in school when they spend their non-school hours engaged in fun, but academically beneficial, activities.
"It's about two communities coming together and rallying to ensure our youth have the opportunity in becoming responsible and caring citizen," said Tashilee Vazquez, Chief Professional Officer for the Boys and Girls Club. "Studies show that young people who engage in fun, but academically beneficial activities and service afterschool they do much better in school, maintain positive relationships with adults and avoid risky behaviors."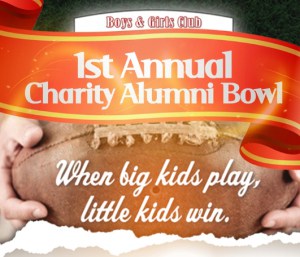 Perth Amboy Mayor, Wilda Diaz, is excited for the game and the wager between the communities, including community service in the winner's city and a donation to their local food bank. "I have been a supporter of the Boys & Girls Clubs of Perth Amboy since its inception eight years ago and I respect the work that they do with our students. They ensure our kids have a safe place to go, but more importantly this organization provides an environment that surrounds them with great leaders for brighter future," said Mayor Diaz.
"The BGC programs in Carteret have proven effective in our community. We have teamed up with BGC to serve over 700 Carteret kids and families and look forward building our campaign that great futures start in our communities," said Mayor Dan Rieman of Carteret.

About Boys & Girls Clubs of Perth Amboy & Carteret
For the Boys & Girls Clubs of Perth Amboy & Carteret, there is one persistent dream – a world where every child is given the opportunity to succeed in life and experience a brighter future. We serve with one purpose – to enable all young people especially those who need us most, to reach their full potential as productive, caring, responsible citizens. Established by the Jewish Renaissance Foundation, one of New Jersey's most established nonprofit corporations (www.jrfnj.org), the Boys & Girls Clubs of Perth Amboy & Carteret is a part of a unified nationwide affiliation of more than 4,000 Clubs who in all 50 states (and Puerto Rico and the Virgin Islands) serve over 4 million children and youth every day. We are part of a national movement with over 100 years of changing and saving so many young lives. In Perth Amboy and Carteret, over 700 children and youth, ages 6-18, of all races, ethnicities, and income levels are served by our clubs. For more information visit http://www.bgcpa.us www.facebook.com/BGCPERTHAMBOY or www.twitter.com/BGCofPERTHAMBOY