Studies Show Bariatric Weight Loss Can Improve Fertility
By: Dr. Ayotunde Adeyeri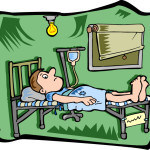 There is a strong association between obesity and infertility, and several recent studies are showing that weight loss can increase fertility in obese women.  In one study from the University of Iowa Hospitals and Clinics in Iowa City, 100 percent of women who were diagnosed with polycystic ovary syndrome (PCOS), a condition that can occur with weight gain and cause infertility, successfully achieved pregnancy after bariatric weight loss surgery.
Obesity, especially centered in the abdomen, among infertile women seeking pregnancy is also associated with poor response to ovulation induction and with decreased pregnancy rates. Doctors usually tell obese women who want to get pregnant to lose weight. For women who have struggled with weight gain and loss throughout their lives, this is no easy task.
Though this is a small study it has a big result, one that morbidly obese women who are having trouble conceiving should discuss with an experienced, board certified bariatric surgeon.
These studies overall suggest that women with morbid obesity, who are infertile due to PCOS, may have a new surgical option to help them conceive. Many other studies have shown bariatric surgery can improve or resolve a multitude of diseases and conditions. Infertility now joins that list.
Bariatric surgery is an increasingly popular, safe, and effective approach for achieving sustainable weight loss, as well as reducing infertility and other health problems associated with severe obesity, such as diabetes, heart disease, cancer, high blood pressure, sleep apnea, and joint problems.
Dr. Ayotunde Adeyeri is a board-certified and fellowship-trained laparoscopic, bariatric and general surgeon and serves as medical director of the Institute for Weight Loss at Raritan Bay Medical Center. The Institute provides individualized medical and surgical solutions and support for individuals seeking weight loss, including nutrition and lifestyle counseling.  For more information or to attend a free bariatric surgery seminar, held twice monthly, call 855.TIME.4.ME.
---
Minimally Invasive Spinal Surgery May Be Right for You
By: Dr. Sripad Dhawlikar
With the use of small incisions, customized instruments, and innovative imaging techniques, minimally invasive spinal surgery (MIS) may be performed with less pain, blood loss, and hospital time as well as reduced risk. This muscle-sparing approach leads to rapid recovery, high patient satisfaction, and the best possible outcome.
The goal of minimally invasive spine surgery is to stabilize the vertebral bones and spinal joints and/or relieve pressure being applied to the spinal nerves — often a result of conditions such as a spinal instability, bone spurs, herniated discs, scoliosis, or spinal tumors.
Minimally invasive spine surgery was developed out of the desire to treat disorders of the spine with minimal muscle related injury, and with a more rapid recovery. Traditional surgical approaches to spine surgery often involve large incisions which naturally result in damage to muscle. A smaller incision normally means less muscle damage as a result of the incision. Less muscle damage can result in quicker recovery, decreased blood loss, and faster return to normal function.
Because MIS procedures use video-assisted equipment, the surgeon normally has better visualization and magnification of internal organs and structure. For patients, this translates into a more accurate and definitive procedure. Because of the reduced trauma to the muscles and soft tissues – compared to open spinal surgical procedures – benefits include:
• Better cosmetic results from smaller skin incisions
• Less blood loss from surgery
• Reduced risk of muscle damage since less or no cutting of the muscle is required
• Reduced risk of infection and postoperative pain
• Faster recovery from surgery and less rehabilitation required
• Diminished reliance on pain medications after surgery
In addition, some MIS surgeries are performed as outpatient procedures and utilize only local anesthesia, so there is less risk for an adverse reaction to general anesthesia.
Conditions using MIS procedures include degenerative disc disease, herniated disc, lumbar spinal stenosis, spinal deformities such as scoliosis, spinal infections, spinal instability, vertebral compression fractures, and spinal tumors.
Your spine specialist will be able to tell you which MIS surgeries, if any, may be a treatment option for your spinal condition. In some situations, MIS surgery may not be as safe or effective as traditional open surgery. If so, your doctor will be able to inform you about the relative risks and benefits.
When considering minimally invasive spinal surgery, always seek a consultation with a board certified surgeon specializing in spinal procedures. Your doctor will ensure an accurate diagnosis of your condition, and together with you, determine the best course of treatment.
Board certified orthopedic surgeon Dr. Sripad Dhawlikar is part of the Human Motion Institute at Raritan Bay Medical Center's Neck and Back Center. The Institute is a comprehensive musculoskeletal program dedicated to returning patients to normal activities quickly and safely with help from a nurse navigator who guides patients and their families through surgical care.  The Neck and Back Center uses a multifaceted approach to accurately diagnose and treat back and neck pain. Treatment options include physical therapy, medication, alternative therapies, lifestyle changes, non-surgical and minimally invasive surgical procedures.    For referral to an orthopedic specialist at the Center, call 1.877.MDS.RBMC. For more information about The Human Motion Institute, call 1.855.5.MOTION.
---
Tax Facts: Deductible Medical Expenses
Courtesy of Tom Ploskanka
As medical costs continue to soar, it might be a good idea to reconsider whether or not you might benefit from a medical expense deduction. If so, you'll want to start keeping track of your medical expenses. Attached is a list of many deductible medical expenses, some of which you may not have realized were allowable as medical deductions. This list can help you get an idea as to how much you are spending on unreimbursed medical expenses. Keep in mind that only expenses that aren't reimbursed are deductible.
To receive a tax benefit from unreimbursed medical expenses, you'll need to jump two hurdles. If your unreimbursed medical expenses will exceed these hurdles, you may benefit from keeping up with them. The first hurdle is the 10% (7.5% if you or your spouse are age 65 by the end of the year) of your Adjusted Gross Income (AGI) hurdle. Only unreimbursed medical expenses exceeding this hurdle are deductible as an itemized deduction. You can use the following chart to get a rough idea as to whether your unreimbursed medical expenses will get over this hurdle.
Expected AGI 10% Limitation (Under Age 65) that Expenses Must Exceed 7.5% Limitation (Age 65 or Older) that Expenses Must Exceed
$80,000-99,999 $8,000-10,000 $6,000-7,500
$100,000-119,999 $10,000-12,000 $7,500-9,000
$120,000-150,000 $12,000-15,000 $9,000-11,250
$150,000-250,000 $15,000-25,000 $11,250-18,750
The next hurdle is the itemized deduction hurdle. Here, medical expenses that exceed the 10% or 7.5% limit, as applicable, are combined with other itemized deductions (such as, interest, taxes, and charitable contributions) to determine total itemized deductions.
You'll benefit from your itemized deductions only to the extent they total more than your standard deduction for the year. The 2014 standard deductions are generally as follows:
Filing Status Basic Standard Deduction
Married filing jointly   $12,400
Single or married filing separately $6,200
Head of household   $9,100
If you are married, your standard deduction is increased by $1,200 for each spouse who is blind. It's increased by another $1,200 for each spouse who is age 65 or over. If you are single, your standard deduction is increased by $1,550 if you are blind/age 65 or over.
Finally, high-income taxpayers are subject to the phaseout rules, which cause a taxpayer to lose itemized deductions. For 2014, the phaseout begins when AGI exceeds $$305,050 for a married filing joint ($152,525 for married filing separate) filers, $254,200 for single filers, and $279,650 for head of household filers. Because the mechanics of this limitation is complex, we will not try to explain it here. If your AGI exceeds these amounts, you may want to give us a call. To the extent that you have control over the timing of medical expenses or other itemized deductions, you might consider bunching deductions into a lower income year in order to lose fewer dollars to the phaseout.
Bottom Line: If it looks like your unreimbursed medical expenses will be high enough to jump all these hurdles, it's time to start keeping up with your receipts. Please give us a call if you have questions or want to know more about medical deductions.
Call us to discuss the types of deductible medical expenses available. (732) 801-1099.