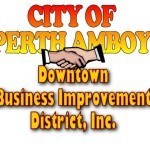 PERTH AMBOY – At the 3/9/15 Caucus it was stated that the BID would like to place street banners throughout the business district. The funding for this project would be through the Zone Assistance Funds held in the trust account not to exceed $66,100.
According to BID Chair Barry Rosengarten, "The banners will also be placed on Hall Avenue, State Street and Amboy Avenue. The cost will come out to $165 per banner which will give us 400 banners. This is funded by the UEZ. The banners are custom made by the Recreation Staff."
At the 3/11/15 Council Meeting, Councilman Fernando Gonzalez said when he looked at the list of streets that were to receive banners, "Hall Avenue is not listed. We need a map of the UEZ Streets. Maybe we should table this or amend the resolution to make sure the resolution includes Hall Avenue."
Councilman Bill Petrick suggested that we request the BID to include Hall Avenue to get banners on their street on their final report.
R-126 passed unanimously approving the funding for the Street Banner Project.