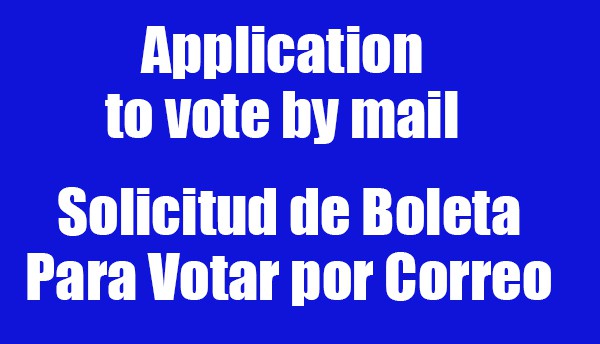 VOTE BY MAIL
NOTICE TO PERSONS REQUESTING MAIL-IN BALLOTS
If you are a qualified and registered voter of the State who wants to vote by mail in the Perth Amboy Special Municipal Election to be held on May 12, 2015 complete the application form below and send to the undersigned, or write or apply in person to the undersigned at once requesting that a mail-in ballot be forwarded to you.  The request must state your home address, and the address to which the ballot should be sent.  The request must be dated and signed with your signature.
If any person has assisted you to complete the mail-in ballot application, the name, address and signature of the assistor must be provided on the application and, you must sign and date the application for it to be valid and processed. No person shall serve as an authorized messenger for more than 10 qualified voters in an election. No person who is a candidate in the election for which the voter requests a mail-in ballot may provide any assistance in the completion of the ballot or may serve as an authorized messenger or bearer.
No mail-in ballot will be provided to any applicant who submits a request therefore by mail unless request is received at least 7 days before the election and contains the requested information.  A voter may, however, request an application in person from the county clerk up to 3 p.m. of the day before the election.
Voters who want to vote only by mail in all future general elections in which they are eligible to vote, and who state that on their application shall, after their initial request and without further action on their part, be provided a mail-in ballot by the county clerk until the voter requests that the voter no longer be sent such a ballot.  A voter's failure to vote in the fourth general election following the general election at which the voter last voted may result in the suspension of that voter's ability to receive a mail-in ballot for all future general elections unless a new application is completed and filed with the county clerk.
Voters also have the option of indicating on their mail-in ballot applications that they would prefer to receive mail-in ballots for each election that takes place during the remainder of this calendar year.  Voters who exercise this option will be furnished with mail-in ballots for each election that takes place during the remainder of this calendar year, without further action on their part.
Application forms may be obtained by applying to the undersigned either in writing or by telephone, or the application form provided below may be completed and forwarded to the undersigned.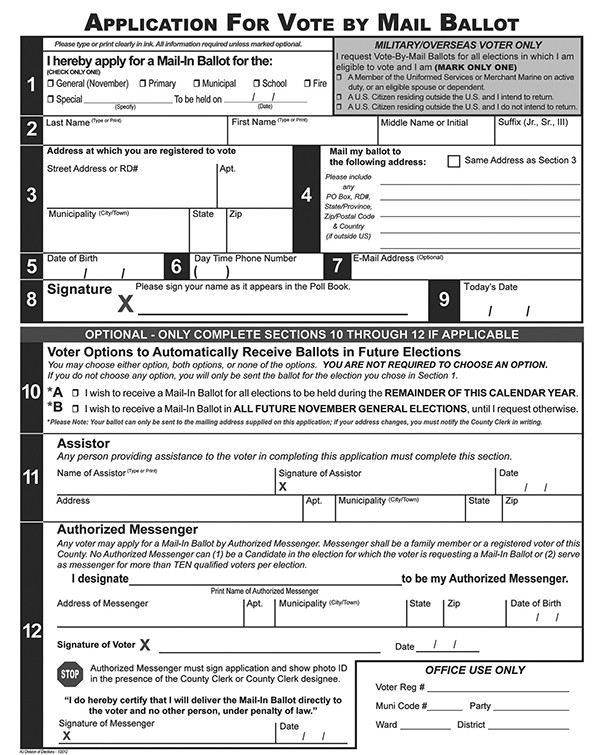 DATE: April 28, 2015 ELAINE M. FLYNN
MIDDLESEX COUNTY CLERK
ADMINISTRATION BUILDING
P.O. BOX 1110
NEW BRUNSWICK, N.J. 08903
(732) 745-4463
TDD (732)745-5553
VOTO POR CORREO
AVISO PARA LAS PERSONAS QUE DESEEN RECIBIR UN VOTO POR CORREO
Si usted es un elector que está inscrito y cumple los requisitos del Estado y desea votar por correo en la elección Municipal Especial de Perth Amboy que tendrá lugar el 12 de mayo 2015 complete el formulario de solicitud a continuación y envíelo al suscrito, o escriba o aplique personalmente al suscrito pidiéndole que le envíe un voto para votar por correo. Su solicitud debe indicar la dirección de su domicilio y la dirección a la cual desea que se le envíe el voto. La solicitud debe estar fechada y firmada por usted.
Si alguna persona lo ayudó a completar la solicitud de voto por correo, en el mismo formulario debe señalar su nombre, dirección y firma y usted deberá firmar y fechar la solicitud para que ésta sea válida y pueda ser procesada. Ninguna persona puede servir de representante autorizado para más de 10 electores calificados en una elección. Ninguna persona que sea candidato en la elección para la cual el elector está solicitando un voto por correo puede ayudar a llenar el voto o servir de representante autorizado o portador de éste.
No se entregará ningún voto por correo a la persona que presente una solicitud por correo, a no ser que ésta se reciba al menos siete días antes de la elección e incluya toda la información solicitada. Un elector, sin embargo, puede solicitar un formulario personalmente al funcionario del condado hasta las 3 p.m. del día anterior a la elección.
A los electores que deseen votar únicamente por correo en todas las elecciones generales futuras en las que les corresponda votar y que así lo estipulen en su solicitud, luego de su solicitud inicial y sin acción ulterior de su parte, el funcionario del condado les enviará un voto por correo hasta cuando los propios electores manifiesten que ya no desean que les sigan enviando dichos votos. Al elector que no vote en la cuarta elección general siguiente a la última elección general en la que haya votado, se le podrá suspender su derecho a recibir un voto por correo para todas las elecciones generales futuras, a menos que complete una nueva solicitud y la haga llegar al funcionario del condado.
Los electores también tienen la opción de indicar en la solicitud de voto por correo que prefieren recibir los votos por correo para cada elección que tenga lugar durante el resto de este año calendario. Los electores que ejerzan esta opción recibirán sus votos por correo para cada elección que tenga lugar durante el resto de este año calendario, sin que deban ejercer acción adicional alguna.
Los formularios pueden obtenerse solicitándolos al suscrito ya sea por escrito o por teléfono o bien se puede completar la solicitud que se acompaña más abajo y enviarla al suscrito.
FECHA: 28 de Abril, 2015   ELAINE M. FLYNN MIDDLESEX COUNTY CLERK
COUNTY ADMINISTRATION BUILDING
P.O. Box 1110
NEW BRUNSWICK, N.J. 08903
(732) 745-4463
TDD (732) 745-5553