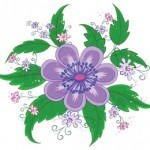 NEW BRUNSWICK – Please bring your own garden cart. The Ultimate Plant Sale! The sale is on rain or shine. Come out to support the Gardens and our Student Internship Program. The Spring Flower Fair is a garden plant sale that provides you with the opportunity to purchase everyone's favorite varieties, as well as unique and/or difficult-to-find plants that will enhance your garden with flower, form or food.  This year we increased the selection of those hard-to-find plants, but also focused upon those plants that will provide solutions to difficult sites in your garden!
Your purchase directly benefits the Rutgers Gardens Student Internship Program, which will provide hands-on educational experience for over 12 students this coming summer.  Rutgers Gardens is entirely self-supporting, and your support is greatly needed and appreciated!
2015 Schedule of Events:  Pre-order sales will be processed for Rutgers Gardens Members ONLY. Plants may be picked up on May 8 at the Preview Sale and Reception.
Rutgers Gardens Members: Free please RSVP to Mary Ann Schrum – Non-Members: $10.00 – Location: Holly House. Thursday, May 7 from 3:00 p.m. – 7:30 p.m. Spring Flower Fair Preview Sale and Rare Plant Auction – Members and Special guests only. Must join or renew by May 1, 2015. Invitations will be mailed and RSVP is necessary to attend.
Friday, May 8 from 10:00 a.m. – 5:00 p.m. Sale open to the general public. Saturday, May 9 from 9:30 a.m. – 4:00 p.m. Sale open to the general public. Sunday, May 10 from 9:30 a.m. – 3:00 p.m. Sale open to the general public.
Mother's Day Special! – Bring Mom to the Gardens on Mother's Day and take part in our free container garden workshop. Rutgers Gardens staff and Volunteers will be on hand to provide demonstrations on putting together the perfect container. Pots and soil will be provided and participants will be able to purchase their own plants to put together own container. Workshop Times: 12:00 p.m., 1:00 p.m., 2:00 p.m.