A Neighborhood Kid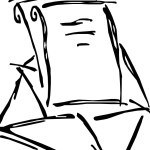 A neighborhood died last month. Well, I knew him as a neighborhood kid. I hadn't seen him since I was 18. I used to walk to grammar school with him up Madison Avenue. He went to Amboy High School with me. His mother worked in the front office along with Mrs. Polack and Miss Cladek. So we sort of had a bond with people whose parents worked in the school. He never really said much, but we used to talk about neighborhood stuff.  He was always an academic. He liked to read and we would talk about books. He had a brother, Shelly who also walked to school with us and he and the rest of the neighborhood would trudge to school every day as school kids do.
When he graduated, I never saw him again. But this last week, I read in the New York Times that my old school companion had died from injuries in an automobile accident in California. I never realized what he had done. In the New York Times, he had a three column obituary. He got his doctorate from Rutgers and taught at various colleges, but he went on to become a well-known reviewer of books. He wrote for "All Things Considered" and wrote over 1200 reviews of books. He hosted a radio program called, "The Sound of Writing," but he always wanted to write, so at the age of 40 he started to write.
The New Yorker published his first short story, "Fishing for Coyotes." After that, he wrote prolifically a dozen novels and short stories as well as four nonfiction books. He said, "I am a novelist who once lived cleverly disguised as critic." His credo was: "Live, read and write." And this he did. Alan Cheuse lived in California, but was to me he was a "Neighborhood Kid" who did good. Rest in Peace, Dr. Alan Cheuse.
Anton J. Massopust
City Historian
and Friend of Alan Cheuse
Susan Batista v. City of Perth Amboy
Your firm is attempting to fight in the Federal Court while you got a second law firm to pretend to fight in the State Case which was closed out! How can you both fight the case at the same time?
Ms. Batista brought the Order for TRO forward from the State case. It was your responsibility to inform the Court of the TRO.
You purposely left it out because it was against your client. How many illegal attorney of records do you have for this case? The State case is closed and yet you still pretend to be fighting it.
William Mason