1/27/16 Council Meeting
PERTH AMBOY –  It was revealed at the 1/27/16 Council Meeting that Mayor Diaz had made Peter Pelissier the Assistant Business Administrator effective 1/5/16.
Council President Lisa Nanton read a letter at the meeting stating this. (see letter below to the right)
During the Public Comments, Resident David Caba said, "The Acting B.A. (Pelissier) is acting illegally right now. (His time had elapsed.) He took a vacation without the consent of the Council. I am looking out for the taxpayers. (Councilman) Fernando Gonzalez is not here, but you (the rest of the Council) might as well not be here."
Resident Alan Silber came up to speak and wondered why the Mayor being out of town was on tonight's agenda. "This was after the fact. You have the responsibility of consent. The Interim B.A. was Acting Mayor after his 90 days had expired. Tell me why he's still sitting here."
After Silber made that comment, Council President Lisa Nanton read a letter where the Mayor appointed  Peter Pelissier Assistant Business Administrator effective 1/5/16.
Resident and Business Owner Susan Batista came up to speak. "Was the Interim B.A. appointed Acting Mayor before 1/15/16 to 1/25/16?"
Council President Lisa Nanton said, "We will have to review earlier tapes."
Mayor Diaz came up to speak, "I cut my vacation short to be here to deal with the storm. I communicated with the Department Heads while I was away."
Later Silber wanted to know if Pelissier's current pay was adjusted. "How was he appointed Acting Mayor when he wasn't a Director?"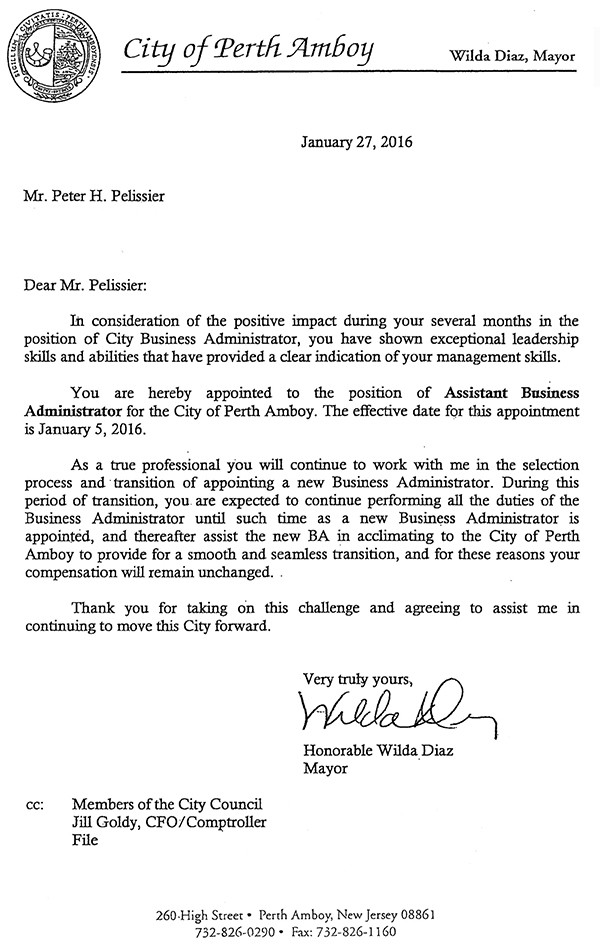 Silber then questioned Council President Lisa Nanton about when she had said, "Every penny counts." He then went on to state how many pennies Pelissier has made since he has been working in the City.  "Were you (the Council) given a memo that Pelissier would not be here for 2 weeks (vacation)? Now that Pelissier is an Assistant B.A., he will no longer be entitled to vacation pay."
Addressing Silber, Council President Lisa Nanton said, "The Council was not given any memos about Pelissier's vacation weeks."
Silber ended by saying, "We weren't silent when Joe Vas was Mayor and we won't be silent now."
Ken Balut came up to speak about what he has considered a sore point for years, "The YMCA was given over $9000 by the Board of Education. " He then added, "A female officer was skipped over and she has 22 years of service. This skipping over started in 2013 and she would have been the first Hispanic sergeant. Do you want to tell the people that the Assistant B.A. was paid $7000 for a vacation? We have taxation with representation. This country started a revolution over taxes. The Interim B.A. is making non-professional comments."
Resident Stanley Sierakowski wanted to know, "Who is going to pay for the April Board of Education elections? Is there any potential litigation on the Board of Education changing the date of reelection?"
At the end of the Meeting, Assistant B.A. Peter Pelissier made some comments. Addressing Resident Ken Balut about the ID Program, "There will be a $20,000 capital cost which will include the machine and ID's. Two individuals will be employed who already work for the City. It will take between 10 to 15 minutes to process each applicant. A lot of cost to taxpayers are associated with retirement benefits to employees."
Pelissier commented, "Balut walked away with a $45,000 pension. As far as my two week vacation, it was prearranged before I came to the City. While on vacation, I was in touch with City employees via email. While I'm here, I receive between 50 and 75 email's a day. You have a flat budget and an increase in rateables. The Mayor and Council have worked together on this. My qualifications far exceeded  the last Business Administrator's. I will be here to help the new B.A. transition."
Mayor Diaz spoke next. "I am glad that Peter Pelissier was able to clarify some of the misinformation. The police promotions that you (the Council) approved were in the best interest (Fiscal Integrity of the City). Pensions and salaries were taken into consideration and I'm thankful that you also took this into consideration. Our Public Works is still out there working on snow removal."
Councilman Fernando Irizarry thanked everyone for their part in the snow removal and making things safe. "No one lost their lives and yes, there is room for improvement. We should also have alternate side of the street cleaning on every street."
Councilman Joel Pabon said, "I did not regret any comments that I made at the Monday, 1/25/16 Caucus Meeting. I don't blame the DPW workers. It comes from the top. It wasn't meant to criticize, but it has to be done right the first time. Some of the points I made was because of emergency vehicles that needed to get down smaller streets. I invited the Public Works employees to come to the meetings. I get up early and see them and know they are working hard, but they get paid to work. We need more equipment."
Addressing Mr. Caba, Pabon continued, "We listen to what you say."
Addressing another resident, Pabon said, "I talked to Ken Ortiz, Dir. of Recreation who said they were using their own employees for the ID program. It's not our obligation to use multilingual interpreters."
Councilman Bill Petrick suggested that snow melting machines would be a great idea. "The Police and Fire Departments have an ID printer in place. Perhaps they could be used for the ID program. The Dept. of Public Works employees are working hard, but supervisors can work a little harder."
Council President Lisa Nanton commented that she loves the snow and she walked down the fishing pier and the Waterfront neighborhood during the storm. "I was surprised that the cement wall (on Sadowski Parkway) with its many cracks stood up to the storm. It may have been because the winds blew towards South Amboy." She was also proud of the fact that she and former Resident Tracy Jordan had submitted a plan to the American Planning Association in 2012 before Sandy hit. "I give kudos to Carolyn Pozycki, Nate Bender, Annie Hindenlang, Leo Vasquez and myself for being recognized by the National Endowment of the Arts. (See Page 10)"
Councilman Fernando Gonzalez was on vacation and not present at the Meeting.