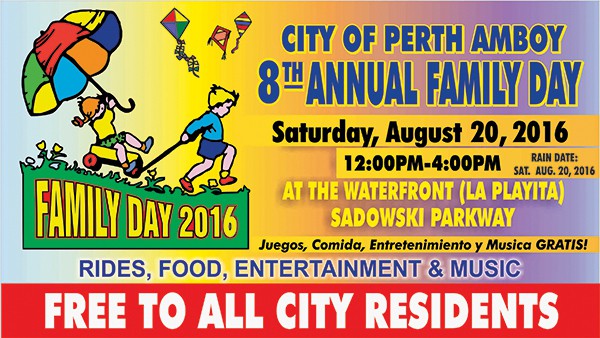 PERTH AMBOY — Mayor Wilda Diaz announces the City of Perth Amboy's Eighth Annual Family Day celebration to be held on its rain date of Saturday, August 20 from 12:00 p.m. – 4:00 p.m. The event is free and open to all city residents.
Family Day draws a crowd of over three thousand people along Sadowski Parkway from High Street to Second Street.  Local organizations table information about available services for residents, upcoming programs and activities.
"Every year we are able to hold this spectacular event with the co-sponsorship of our local businesses, organizations and the participation of our youth. We want to give back to our community, it's one of the many FREE summer fun activities in Perth Amboy that you don't want to miss," said Mayor Wilda Diaz.
Entertainment will be as follows:
Rides and Activities: Batman and Batgirl characters visit, moonwalk inflatables, obstacle course, ball crawl, bouncy boxing, multiple jumbo slides, miniature golf, sumo wrestling and a bungee run, rock climbing wall, balloon twister, beach volleyball, kayaking, sailing, face painting, petting zoo and feeding zoo.
Food and Snacks: Hamburgers, French fries, corn on the cob, cotton candy, bottled water & ice cream. Lemonade provided by Bahama Breeze Restaurant. Free food product samples to be provided by our local business Tropical Cheese Industries.
Games and Contests: Water balloon toss, pie-eating contest, beach relay races, tug of war, carnival games, prizes and give-aways.
In addition, over 30 municipal, county and local organizations will be present with information and support services, including: Department of Human Services, Police and Fire, Raritan Bay Raritan Bay YMCA, Perth Amboy Girl Scouts, Puerto Rican Association for Human Development and the Jewish Renaissance Medical Center, JRMC, JRF, Legislators' Office, Faith Fellowship, Renovation House, Alianza NJ Institute for Disability, Progressive Care Institute, Perth Amboy Youth Football League, Renovation House and NCADD of Middlesex County.
WHEN:                 Saturday, August 20th
WHERE:               Sadowksi Parkway (Foot of High Street to Second Street)
For additional information about Family Day, please contact the Perth Amboy Office of Recreation at: (732)-826-1690.