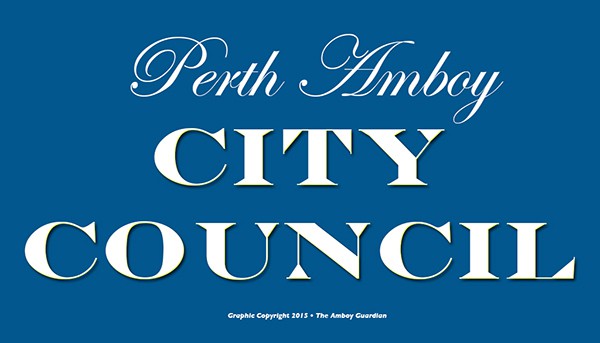 1/25/17 Council Meeting
PERTH AMBOY – During the Public Items, Resident Stanley Sierakowski had a question about Resolution R-49-1/17 – Financing the energy conservation measures for the Energy Savings Improvement Plan.
He asked the Council, "Honeywell, (which made a presentation at the Caucus) should give you examples of where they have done this before. Then you should investigate on your own. Did Arlene Quinones (Former Law Director) have any dealings with getting that company here? This deal is for 15 years. According to the Resolution, the CFO (Chief Financial Officer) has to agree to this – not the Council. Explore solar energy as an option."
Next up was Resident David Caba. He questioned R-50-1/17 – Authorizing the Law Offices of Robert L. Tarvor, Jr. to take appropriate action to recoup any and all funds and properly disperse or pay relative to the hiring and retention of Peter Pelissier as Assistant Business Administrator.
"I hope you guys make the right decision to watch out for the taxpayers." David Caba also touched on PILOT Programs. "I don't have a PILOT as a taxpayer. We would like to make Perth Amboy great again. In East Orange, the B.A. had to return some money back to the taxpayers. It's your (the Council's) job to take control. We have a new President. I don't always agree with him, but he is our President. Pelissier took money from our taxpayers. People came here to make a PILOT presentation. Our Residents are tired of being lied to."
Resident Sharon Hubberman came up to talk about R-49. She started to talk about the solar panels being installed before being interrupted by Council President Bill Petrick.
Petrick said, "The presentation (by Honeywell) that was given at the Monday afternoon Caucus had nothing to do with the installation of solar panels. The presentation dealt with lights, heating and a fan system."
Hubberman continued onto Resolution R-50. She wondered, "How there could there be a disagreement about this action if it will recoup funds to the City. It would look well for the Council to pass this. I'm in favor of this resolution. It will benefit the taxpayers."
B.A. Adam Cruz jumped in to clarify a statement that was made by Sierakowski regarding Quinones-Perez. He mentioned certain dates that energy audits were made. "They included: March 12, 2013; October 23, 2014 and January 14, 2015. Quinones-Perez was not here during those dates. Also the Assistant B.A. (Pelissier) did not take any money. Pelissier worked under a contract and provided services to the City."
When it came time to vote on Resolutions R-26-1/17 through R-39-1/17, then R-41-1/17 through R-48-1/17, then R-50-1/17 and R-52-1/17 all were moved by Councilman Fernando Irizarry and seconded by Councilman Joel Pabon. They all passed unanimously.
R-40-1/17 (Arts Council Appointee) and R-51-1/17 (Retaining the Law Offices of Robert L. Tarvor Jr. for purposes of enforcement of City Council Ordinance No. 18/28-2016 and related issues) were both voided.
Councilman Fernando Gonzalez asked that R-49-1/17 be discussed and voted upon separately. "I request that this be tabled until the next regular Council Meeting. This is a sizable amount of money that we are bonding the City for. I have concerns. There's no guarantee of savings and there's other expenses that I need to analyze. I think that we all need to do this."
Business Administrator Adam Cruz responded, "The report (regarding the Energy Savings Program) that is in front of you is from a third party. They are a City Consultant and this is required by the DPU (Department of Public Utilities). The DPU then goes through the recommendations of our third party consultant. The DPU approved it. Next time we go to bid, Honeywell will pay the difference of the savings not met. McManimon was our third party consultant."
Councilman Joel Pabon said, "This is the first time I'm seeing the report. I can't vote "yes" to this."
A McManimon Consultant came up to speak and said, "You are not required to take the guarantee."
A Representative from Honeywell came up to make a remark, "Most of the cost of the items on the report were paid by Honeywell."
Councilman Fernando Gonzalez said, "It's a lot cheaper to have better lighting than to hire more police."
Fernando Gonzalez made a motion to table R-49 and Joel Pabon seconded it. The Motion passed to table until the next regular Council Meeting on 2/8/17.
When it came to voting on the Ordinances, Ordinance No. 1 – Amending Section 99-3 of the Code entitled Redevelopment Agency regarding appointment by Council was moved by Councilman Fernando Gonzalez, seconded by Councilman Fernando Irizarry. Councilman Jelmin Caba voted "No." The other four Councilmen voted "Yes." Motion passed.
On Ordinance No. 2 PILOT Program for the Hansen Apartments and Stack Apartments and Ordinance No. 3 for the PILOT Program for the George J. Otlowski Senior Apartments, the Douglas G. Dzema and the John E. Sofield Apartments, Fernando Gonzalez abstained. The other four Councilmen voted "Yes." Motion passed.
On Ordinance No. 4 – An Ordinance to amend an Ordinance entitled Ordinance Fixing and establishing a schedule of salaries and salary ranges in increments for officers and employees of the City of Perth Amboy (Ordinance No. 218-79 as amended, adopted July 3, 1979 regarding management and non-union.) the motion passed.
During the public portion, Resident Stanley Sierakowski still wasn't satisfied with R-49. Why is the lease purchase for 15 years? LED lights are only good for 10 years. Why the 5 extra years? What is their rate of profit? The CFO can approved changes and bypass the Council. How much is their pay-for-performance? There is a solar company in New Jersey where you don't have to pay any up front money. Natural gas will cost much less. Read the contract and look into using solar panels."
Resident David Caba came up to speak. "Mr. Cruz, (the Business Administrator) said that crime is down. Is it due to the fact that crime is not being reported? I have to be told by my neighbors about someone who has been robbed. What's stats are Cruz reading from? Smith Street is a disgrace. I don't agree with people misleading our City. I'm dealing with facts. Why are we hiring all these police if there is less crime? I hear someone is giving out pit bulls. Maybe I should get one. No sense in calling our Police Department. I don't care if something has to be tabled several times. At least Joe Vas rode around town at 3 a.m. to see about the crime."
Resident Sharon Hubberman came up to speak about Resolution R-49. She wanted to know how many years and what kind of bonds are backing this program. "Our streets look extremely dark, especially Washington Street at night. I'm for cost savings. Maybe you need a phase out plan. Maybe our maintenance people can be used for changing lights."
Hubberman continued to talk about conditions of the streets, "Amboy Avenue – it looks like they massacred the street and New Brunswick Avenue has these big bumps. Do you ask for bonds for fixing the streets? It's bad for the integrity of the roads."
Resident and Business Owner Susan Batista came up to speak and questioned the Council about the many attorneys the City has used regarding her lawsuit. "My case is still going on. They should not have the same attorney representing the City and Police."
Council President Bill Petrick remarked, "It's the Administration – not the Council's case."
Batista said, "You all are named: Petrick, Gonzalez, Irizarry and Pabon."
Petrick then said, "Then I'll guess you'll have to add Councilman Caba's name, too."
Batista replied, "You won't think it's funny when you have to pay."
Resident Gregory Pabon came up to speak about Councilman Fernando Gonzalez tabling a resolution. "He has a right to do that. You should give everyone an equal right to table something."
City Employee Dave Benyola came forward and thanked the Council for reappointing him to the Housing Authority and mentioned that he is retiring from the City soon."
Housing Authority Chair Dorothy Daniel came forward to thank the Council for voting "Yes," on the PILOT Program on the Housing Authority Apartments. "Thank you for your vote and for giving me Dave back."
Business Administrator Adam Cruz wanted to address some of the concerns of the Residents, "A lot of people do not report crime. That goes for every type of crime. The stats from September 2016 thru October 2016 – I kept the crime numbers to myself and did not report them during the elections. The Mayor had a discussion with Elizabethtown Gas. They're coming back in the spring when the weather breaks to correct the streets."
Councilman Irizarry was not satisfied with that answer, "The roads should not have been left in that condition from the beginning. So for the next 4 months, our vehicles will experience wear and tear due to road conditions. We pay our gas bills. It's a matter of respect. Other towns are not treated this way."
Councilman Fernando Gonzalez agreed, "It's a total lack of respect for our City. People don't respect the laws on our books. We allow it. They do horrible patch-up work. We expect the Administration to follow the law. I'm looking to have a discussion with the City Engineer. Drive down State Street. Why have us make laws if they will not be followed? State Street used to be beautiful when they first repaved it."
B.A. Cruz answered back, "One of these is a County Road. It will be taken care of in the spring. I will provide the Council, the City's Engineer's report on the streets that have been dug up."
Councilman Gonzalez had another question, "I still need legal advice from a question I asked before. This is about appointing Interim Law Directors for 90 days from the same firm."
Acting Law Director Judy Verrone told Gonzalez, "Your Ordinance doesn't prohibit this."
Fernando Gonzalez responded, "We need to change that Ordinance."
Councilman Joel Pabon remarked, "Springtime is just around the corner and we need to get the list together now on the streets that need to be worked on."